---

avrUSB500v2-key, programmer kit, stk500v2 compatible
Parts with professionally etched printed circuit board for the article "AvrUsb500v2 an open source AVR Programmer, stk500 V2 compatible"

This programmer is OS independent (stk500 V2 protocol) and can flash any Atmel avr microcontroller with In-System Programming capabilities. It can flash microcontrollers running at supply voltages from 3V to 5.5V.

This programmer hardware looks to the programmer software (avrdude, avrstudio, ...) just like a stk500v2 on a virtual com-port.
This kit includes:
A high quality printed circuit board (double sided,through-hole connections, gold plated). The FTDI ft232rl SMD chip is already soldered to the board.
Components: Capacitors, resistors, USB-A connector, crystal, LED, 30cm cable with tuxgraphics programmer SIL header
An atmega8a chip pre-loaded with the firmware for the programmer.
Documentation: pinout description of the components, circuit diagram, resistor color codes, drawing and photo of the PCB with all the components
The tuxgraphics ISP-connector which is attached to the cable is a small and compact SIL header. If you do not want to program an tuxgraphics board then just add an adapter. We have adapters for all well known ISP socket types.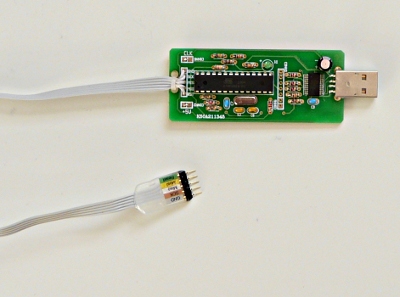 The avrusb500-key after assembly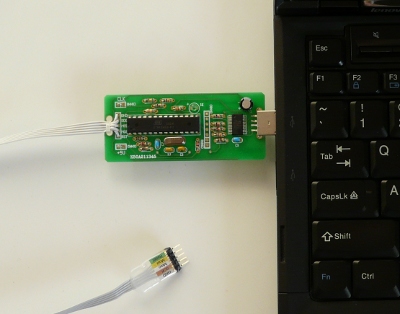 It plugs into your computer like a USB-key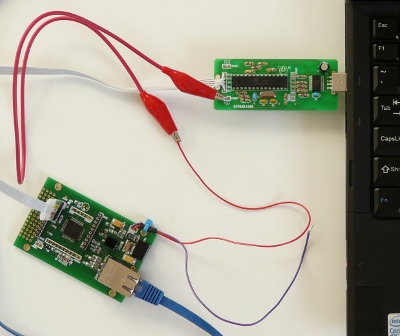 It has a +5V output pin to power a small circuit




Main features of the avrusb500v2 programmer:
Fast programmer with USB interface
Recongnizes when the connector to the target is inserted with incorrect polarity
Works with almost any system (Windows, Linux, Mac, ...)
Provides a 1MHz emergency clock signal to recover from incorrect fuse settings.
Easy to build. Standard components. The SMD chip is already soldered to the board.
Provides a +5V DC output which can be used to power a small circuit via the USB bus of your computer



Note: The atmega8/atmega8a is already included here and has the firmware loaded. All you have to do is solder the kit together. Windows and MAC users will need a driver and it can be downloaded from ftdichip.com. Most linux distributions include the driver already (the module is called ftdi_sio).


price: 22.55EUR, [convert_currency]







---

my cart | proceed to checkout