Prices
Prices shown are without tax (VAT). For orders from outside Canada the price shown is identical to the price you pay. Your local customs office should then add VAT as applicable for your country.

It happens frequently that customs does not look at a shipment sent via normal post or does not charge any fee but that is fairly random and out of our control. Be happy when this happens but don't take it for granted.
Where is Tuxgraphics?
Tuxgraphics is at the moment on the east coast of Canada. See contact page for details.
Payment
Payments are normally processed via worldpay.com or paypal.com (you can choose). We accept all major credit cards.

For European customers it might be quite common to pay via direct bank transfer . You can pay with direct bank transfer (direct deposit into our German account, Überweisung). Most Banks in the European Union charge nothing or very little for bank transfers within the European Union. Bank transfers from within Germany take 1-2 days and transfers from outside of Germany may take 5-10 days.

We ship normally the next working day after we have received your payment.
Shipping cost
We charge only for the actual shipping cost. There are no additional handling or packaging fees. Our shipping calculator will calculate the shipping cost according to weight and location when you go to the check-out. You can see how much you have to pay before you actually order.

The following are example charges for shipping using normal post:
| item | Canada | USA | Germany, France, etc... |
| --- | --- | --- | --- |
| 1 x Tux Sticker | 1.25 CAD | 2.10 US | 1.95 EUR |
| 1 x AVR ethernet board and components | 11.62 CAD (trackable) | 7.17 USD | 7.26 EUR |

The above prices are shipping charges for small packets via the regular post. We offer also the possibility to send orders with a trackable service option world wide.

Shipping prices may change at any time. The amount shown for shipping at checkout is the actual price you'll pay for shipping.
How long does it take?
We ship normally the next working day after you have completed and payed your order.

Our default way of shipping is with Canda Post airmail.

We offer also the possibility to ship with express. Express has shorter transit times and is is trackable door to door.

Average mail transit times for shipments to different countries using Canda Post:

destination
transit time
Europe (except Greece)
80% in 2 Week
Canada
80% in 3 days
USA
80% in 2 weeks
Australia
70% in 2 weeks
New Zealand
40% in 2 weeks,
90% in 3 weeks
Israel
90% in 10 days

Greece: The current economic crisis in Greece seems to affect the local distribution of mail adversely. 5 weeks or more seems to be the norm. Please consider using express if you need timely delivery.
What size is a standard packet?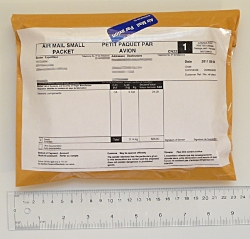 Most orders are sent out with the normal post as "small packet". These small packets have usually the dimensions 24cm x 20cm x 4cm (9.4inch x 7.9inch x 1.6inch). The exact type of packaging depends of course on the on the number of products ordered. A standard order with 1-3 ethernet boards, a programmer and some sensors will however fit into such a packet.

We use double packaging to make sure the products arrive save. Inside is a cardboard box and this is wrapped in tear resistant packaging paper or a large envelope. All packaging materials are recyclable.

It's good if your letter box is capable of holding such a package as this will enable postman to deliver it safely.

Some postal services will leave the packet on your door step in case it does not fit and you are not at home. This is OK if you live in a good area. If your letter box is too small, you live on a busy street and there are many different people passing right along your doorstep then consider using trackable express shipping.