---

AVR programmer USB, SMD version 4, stk500 V2 compatible, ready for use.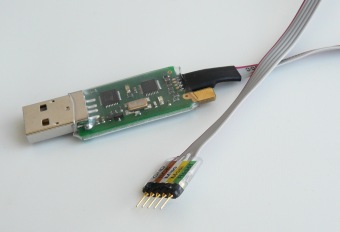 AvrUsb500 as SMD version with USB-A connector. The components are sealed in transparent plastic. Compact but robust design.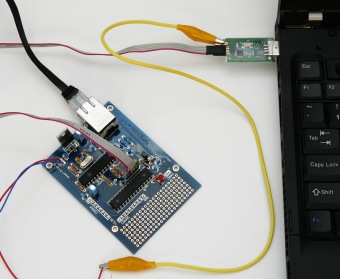 Optionally you can power a small circuit with 5V via the blank metal area where you can attach a mini alligator clip. GND comes via the 5 pin ISP connector.


AvrUsb500 SMD version 4 is designed to be plugged directly in to the USB port of a laptop. The cable from the programmer to the target is 30cm long. This is a very compact design similar to a USB key. This programmer can also be used to power small circuits during development directly from the 5V of the computer USB port.

It emulates a stk500v2 on a virtual com-port.
The main features of the avrusb500 SMD programmer are:
Fast programmer with USB interface.
Recongnizes when the connector to the target is inserted with incorrect polarity.
Recongnizes when the connector to the target is not connected.
An orange LED indicates when the programmer communicates with the target.
Works with almost any system (Windows, Linux, Mac, ...). Mac and windows users need the virtual comport driver from http://www.ftdichip.com/
Ready to use.
Light, compact and sealed in transparent plastic.
Has the possibility to power small circuits with +5V. For this purpose it has an area where you can attach a mini alligator clip.
Can programm devices from 1.8V to 5.5V thanks to integrated level shift circuits.
The tuxgraphics ISP-connector is very small and compact. If you do not want to program an tuxgraphics board then just add an adapter. We have adapters for all well known ISP socket types.



Note: Windows and MAC users will need a driver and it can be downloaded from ftdichip.com. Most linux distributions include the driver already (the module is called ftdi_sio).



The kit includes:
The AvrUsb500 SMD programmer.
An appropriate tuxgraphics ISP socket to connect the programmer cable.
The programmer has a 30cm long cable to connect to the target.
This programmer is OS independent (stk500v2 protocol) and can flash any Atmel avr microcontroller with In-System Programming capabilities. The smd components are sealed in a transparent plastic to protect them against physical impact.

The device comes with firmware loaded and is ready to use.

price: 36.90EUR, [convert_currency]





---

my cart | proceed to checkout