---

AVR microcontroller based ethernet device / web server, atmega644a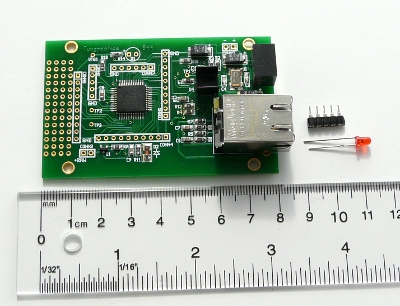 embedded avr ethernet board, atmega644a

This is our most powerful embedded web server. From a physical foot print point of view it is the smallest web server we have. The atmega644a lots of IO pins and any of of the example projects we have would fill only a fraction of its memory. It is the ideal platform if you want to start your own developments and have enough space for future use. The atmega644a has 32 generic IO pins and 27 of them are available for you to use.

As a base for your development you can use verion 4.3 or higher of our TCP/IP stack with web server application layer.

At this point we have updated most the projects/software to this new platform. In general the software would run but the IO/function-pin assignment on the atmega644a is different from the atmega168/328a. We continue to update software for the different projects as we release new revisions for other reasons.

The main application of our web servers is not so much to provide large web pages but to be able to control hardware. You can switch something on/off, display sensor data, supervise network equipment .... We have a lot of articles with different examples at http://www.tuxgraphics.org/electronics/.

This board has a small dot matrix field where you can add additional components (sensors, amplifiers, etc.)

This board can operate over an extremely wide voltage range from 5.0V to 30V DC with almost constant power consumption.

Specifications:
Documentation: circuit diagram and detailed description of the board
Surface finish of the board: gold
Size: 50x80mm, 1.97x3.15 inch
27 available IO pins, 8 can be used as 10-bit ADC inputs
64K of flash, 2K eeprom, 4K ram
Fuse bytes pre-set. The atmega644a runs with a 12.5 MHz system clock at 3.3V
Required power: 5.0V-30V DC, less than 1W



Note: This is a complete web server. You do not need any additional components. You will need a programmer such as the avrusb500 to load software onto this board.


price: 54.50EUR, [convert_currency]


Sorry, this item is out of stock. We have discontinued this produced in 2013. Please take a look at our other ethernet boards.




---

my cart | proceed to checkout