---

AVR microcontroller based ethernet device / web server, version 1.5, kit, power over the ethernet cable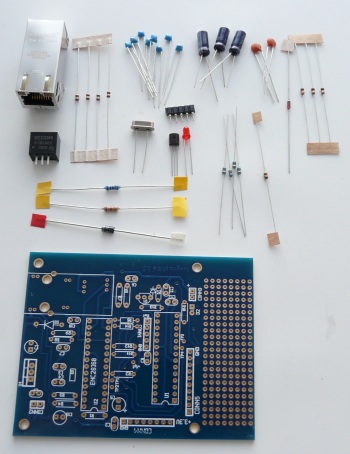 The kit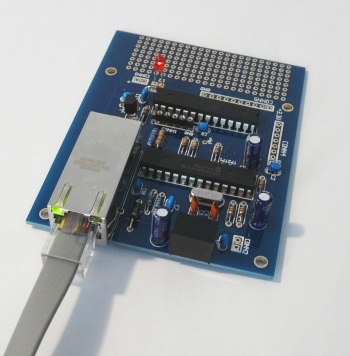 Using the board: just one cable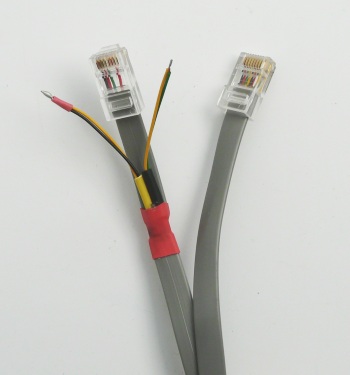 Example of a modified CAT5 cable to insert the power at the far end. See ->this article<- for details. You need to split the cable only at the far end.

Components and professionally etched printed circuit board, gold plated. The main application of those web servers is not so much to provide large web pages but to be able to control hardware. You can switch something on/off, display sensor data, supervise network equipment .... We have a lot of articles with different examples at http://www.tuxgraphics.org/electronics/ Any of the tuxgraphics ethernet software runs on this board.
A basic web server to switch something on or off can e.g be found at: Introduction to the tuxgraphics TCP/IP stack, 3rd generation


This board has a dot matrix field where you can add additional components (sensors, amplifiers, etc.)

This board needs just one cable to work. Both power and ethernet are provided via that cable. The server consumes only about 0.5W of power and can operate over an extremely wide range from 5.5V to 33V DC thanks to the Recom switching regulator which is included here. Note that this board does not implement POE as per IEEE 802.3af. It does not support the POE handshake protocol nor the much higher voltages as per POE standard. It offers the possibility to provide power to the board without any special POE equipment.

To provide power over the ethernet cable is optional. You can as well power it locally.



This AVR microcontroller ethernet kit includes:
Documentation: pin-out description of the components, circuit diagram, drawing of the PCB with all the components
Printed circuit board: blue epoxy board, gold plated, size 7.2cm x 9.2cm (2.8 inch x 3.6 inch).
All components except microcontroller and ethernet chip. (The special POE magjack and the switching voltage regulator are included).


price: 27.90EUR, [convert_currency]



---

my cart | proceed to checkout