---

3 digit LED display, mini DVM module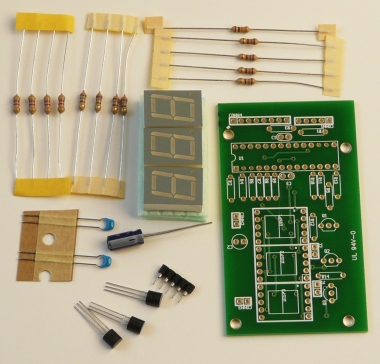 Parts for:
"Mini 3 digit display, a small and inexpensive voltmeter module"
and
Using the "Mini 3 digit display"
The kit contains all the basic parts to build this Digital Voltmeter Module. This module can have a common ground plane for power and measured voltage. You can freely program the voltage range. The position of an optional decimal point can also be freely configured.

This is not only a voltmeter. Dependent on what software you load you can use it as a counter, a short term timer, a thermometer or you can implement our own formula to convert any analog value into some display value according to your on mathematical formula.

This kit includes the following parts:
Documentation: description of board and parts, circuit diagram
3 x bright green LED seven segment displays, 14.2mm.
8 x 180 Ohm resistor
4 x 4.7K resistor
1 x 10K resistor
1 x 10uF electrolytic capacitor
2 x 100nF capacitor
3 x BC547
Some fine enamelled wire for the wire jumpers on the PCB.
1 x 5 pin ISP connector
1 x double sided board with holes, gold plated and components names printed on Size: 4.5x8.0cm (1.77x3.15 inch).




Note: You will also need an atmega8 microcontroller and optionally two resistors to build a voltage divider in order to adjust the input voltage range. To build the thermometer you need also a ds18s20 sensor. To load software into a microcontroller you need a programmer like the avrusb500.



price: 9.55EUR, [convert_currency]




---

my cart | proceed to checkout