---

Tuxgraphics AVR NTP clock kit, firmware pre-loaded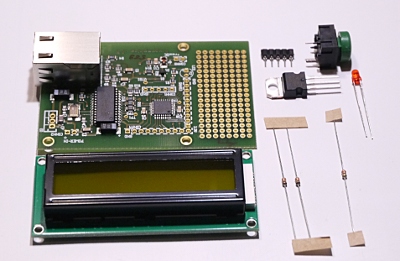 NTP clock kit. The LCD display included in this kit is just amazing. It has a bright yellow-green backlight and is crisp sharp at night as well as in full daylight.

Documentation for this kit: http://tuxgraphics.org/electronics/201302/avr-ntp-clock-2x.shtml

This kit consists of the "AVR ethernet device and Web Server 1.5, SMD version" with atmega328p (from our ethernet section), our "16x2 character LCD display with backlight" (from our display section), 3 extra resistors and a push button.


This kit includes besides the actual SMD board and the 16x2 LCD display:
Documentation: circuit diagram and description
1 x 5 pin ISP connector
1 x LED 3mm red
1 x lm2937-33 voltage regulator
1 x 10K resistor for push button
1 x 330 Ohm resistor
1 x 10K resistor for LCD contrast control (normally not needed, try first without. It depends mainly on the power supply voltage you use: If your power supply provides 4.9-5.0V then you will not need it. If it provides 5.0-5.2V then you might need it. )
1 x Push button
Note: you will just need a small 5V DC power supply to assemble the clock. The power supply should be able to sustain 200mA continously. The microcontroller on the ethernet board is already pre-loaded with software.
Option: Software pre-loaded (automatic configuration via DHCP, just connect it to your DSL router and the clock will start "ticking")

price: 49.50EUR, [convert_currency]


---

my cart | proceed to checkout