---

Small 5V relay, SPDT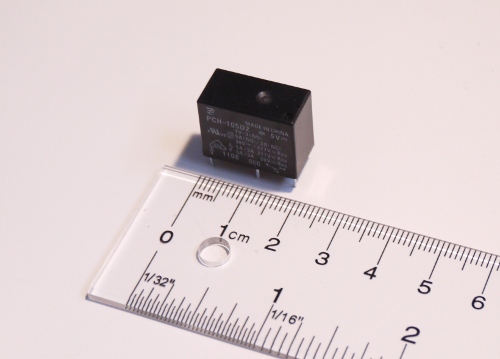 The relay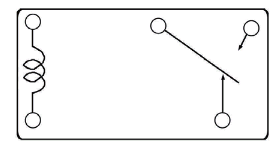 Bottom view. Contact position when idle.

A small relay that can be connected to the ethernet board to switch something on or off. The pin spacing of the relay is such that it fits into a standard dot matrix board.
Coil voltage: 5V

Contact from: SPDT (Single Pole Double Throw. This means that the relay has on contact that opens and one that closes. It's a changeover switch. See diagram)

Contact rating: 5A at 120-250V AC, 5A at 30V DC

Power consumtion: 80mA at 5V

Size: 10 x 20 x 15.2 mm (W x L x H),
[0.39 x 0.79 x 0.6 inch]


The relay is directly powered with the supply voltage that is provided to the tuxgraphics ethernet board. A resistor can be put in-front of the relay coil (in series) to adjust to different supply voltages.

4V-5V DC = connect relay directly
5V-8V DC = add 27 Ohm resistor

For even higher supply voltages you can add an even larger resistor.

Remember to insulate the connecting wires properly when you plan to switch voltages above 30V. It should be such that it is impossible to touch any high voltage wires even when the enclosing case is open.

There is nothing special about this relay. You may as well source a small 5V or 6V relay locally.

5V relay, SPDT + 27 Ohm resistor.

price: 1.90EUR, [convert_currency]




---

my cart | proceed to checkout