---

Scopeclock: Dutchtronix AVR Oscilloscope Clock
The kit.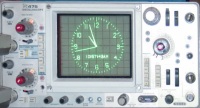 The clock in action.

A clock for any X-Y capable analog oscilloscope. Make it show the current time! This clock connects to your analog scope in X-Y mode using regular 10x or 1x probes. The clock is battery buffered.
Board size 7.6x7.6cm (3x3 inch).

The atmega168 is part of the kit and comes with software pre-loaded.
No programming needed.

This is the Dutchtronix AVR Oscilloscope Clock, Hardware 3.1, Basic kit.



Manual/FAQ:
http://dutchtronix.com/ScopeClockH3-1-Basicfaq.htm

Assembly Instructions:
http://dutchtronix.com/AssemblyH3-1-Basic.htm

Operating Instructions:
http://dutchtronix.com/OperatingH3-1-Basic.htm





Note: No other parts are needed to build this clock. The software is already pre-programmed.


price: 21.95EUR, [convert_currency]


This item is out of stock and there is currently no plan to produce it again.

---

my cart | proceed to checkout