---

Sprinter transmission temperature display, LCD
This kit allows you to display the transmission temperature of a Mercedes Sprinter or Dodge Sprinter van. The Sprinter is sold in North America with an automatic transmission and that transmission has already a built-in temperature sensor. A cable runs from the sensor to the central electrical area under the drivers seat. This is where you can connect this kit. The transmission temperature will be displayed in 'F. Optimal temperatures for the Sprinter's transmissions fluid are between 140'F and 200'F.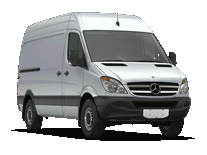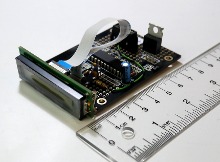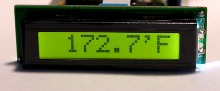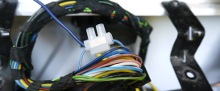 It is useful to monitor the transmission temperature during towing. Towing causes the transmission to become warm and one of the main reason for transmission failures is high temperature. Knowing the normal operating temperature and watching the display will as well warn you about other problems like e.g leaking fluid.

Note that this is NOT an "add-on" to our 8x1 LCD display module. You will get a COMPLETE KIT made to build the temperature display for the sprinter van with software specific to this application pre-loaded on the microcontroller. You will need to have good soldering skills and you must be able to read and understand a circuit diagram. You install this kit at your own risk. Poor cabling practice, especially loose connectors and missing insulation may result in damages to your car. You do not need any knowledge about microcontrollers. The chip is pre-loaded with software and you just have to assemble the kit. We are not a Mercedes dealership and we can not advice you about the compatibility with specific models. So far we have however not had any customer reporting any incompatibility with a North American Sprinter model.

Content of this kit: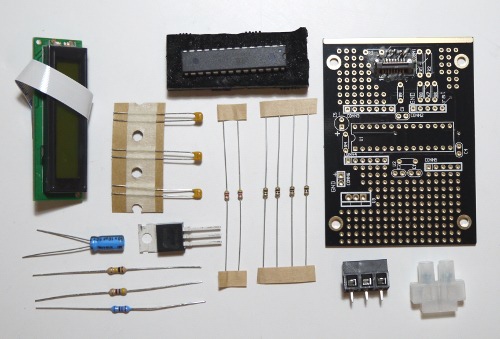 Documentation for the kit and installation instructions
All components needed to assemble this kit
Screw terminals and connectors
1 x green 8x1 character LCD, with back light. The LCD is readable in total darkness and sunlight. Size of the display area: 8mm x 39mm (0.3x1.5 inch).
Double sided printed circuit board with holes, gold plated. Board size: 5.25x7.25cm (2.07x2.8 inch).
Microcontroller pre-loaded with firmare for the sprinter transmission temperature display


Just the kit:

price: 16.00EUR, [convert_currency]



or
Assemble it for me! We solder everything together for you and test it. You just install it in your van using the screw terminals:

price: 45.00EUR, [convert_currency]


Note that we do this assembly work on a per order basis. We do not have pre-build systems in stock and the assembly work will usually be completed within 3 days after you placed your order.


---

my cart | proceed to checkout