---

Slide show presenter button, USB
The kit: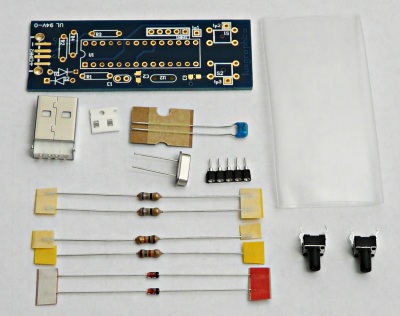 The final product: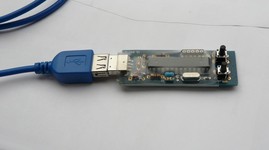 Parts for: "avr-usb: A usb slideshow presenter"
The kit contains all the basic parts to build the usb stick sized presenter button. Use this little USB device to conveniently scroll forward and backward in your presentation.

It works without any special driver on the PC side. Just plug it in. Compatible with Windows, Linux, Mac, BSD Unix, Solaris.

This kit includes the following parts:
Documentation: description of board and parts, circuit diagram
1 x USB-A connector
1 x 10K resistor
2 x 470nF capacitor
1 x crystal 12MHz
2 x 22p capacitor
2 x 1N4148
1 x 5 pin ISP connector
1 x 1.5K resistor
2 x 68 Ohm resistor
2 x mini push button
1 x 6cm transparent hot shrink tube
1 x double sided board with holes, gold plated and components names printed on Size: 6.7x2.4cm (2.6x0.95 inch).




Note: You will also need an atmega8 microcontroller



price for the above kit: 7.50EUR, [convert_currency]






Optional:
Atmega8 microcontroller which is already pre-loaded with the software for this kit.

price: 2.55EUR, [convert_currency]






---

my cart | proceed to checkout