---

Add-on components: ethernet based remote flower watering and monitoring system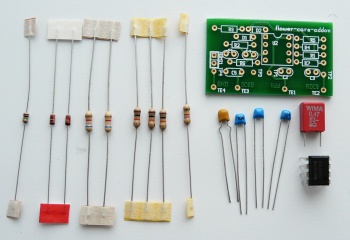 Additional parts for the project: "Remote flower watering and monitoring"

This is an add-on to our avr ethernet boards/webserver. The little board can be mounted on dot matrix filed of the ethernet board.
This kit includes:
Documentation with circuit diagram and assembly instructions
1x printed circuit board, size: 42x25mm (1.6x1 inch)
1x 10nF capacitor
3x 100nF capacitor
1x 1M resistor
3x 10K resistor
2x 6K8 resistor
1x 47K resistor
1x 0.47uF capacitor
1x TS272 dual opamp
2x 1n4148 diode
Note: To build the complete electronics for the "ethernet remote flower watering and monitoring system" you will also need one of our avr ethernet boards and a 6V relay. Optionally you can monitor the temperature using a DS18S20 sensor. The DS18S20 is not included here.





price: 5.95EUR, [convert_currency]

This item is out of stock and has been discontinued. Sorry.

---

my cart | proceed to checkout