---

A digital thermometer with I2C interface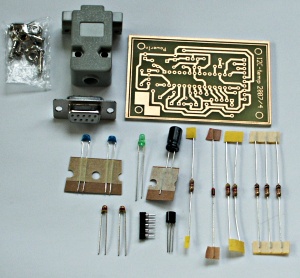 Parts for the article07051: "A simple digital thermometer with I2C and LCD interface
The kit contains all the basic parts to build the digital thermometer with I2C communication. The board is a properly etched epoxy board.
This kit includes the following parts:
Documentation: description of board and parts, circuit diagram
3 x 10K resistor
1 x 470 Ohm resistor
2 x 4.7K resistor
1 x 100uF electrolytic capacitor
2 x 100nF capacitor
1 x LED, 3mm green.
1 x printed circuit board, epoxy, double sided, gold plated.
2 x NTC, Rn=4.7k, Bval=3977
1 x 5 pin socket for programmer cable
1 x DB9 Female connector with screws and plastic case
1 x Diode BAY69 or equivalent
1 x Voltage regulator 78L05
To assemble this circuit will be fun experts and "newbies" alike.



Note: You will also need an atmega8 microcontroller and optionally a HD44780 compatible LCD display.


This product is discontinued. Consider using the mini DVM module which can be used as a digital thermometer.

---

my cart | proceed to checkout