---

Large 4-digit LED display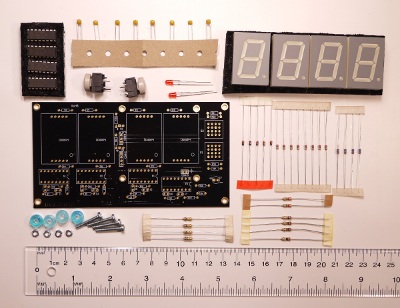 This is a kit to build the large 4-digit LED display. It's a network connected display with large 1-inch (2.54cm) digits. Just plug-in power (5V DC) and an ethernet cable.

The display segements are flicker free and each of them is connected to an own DC powered output pin. A running cammera will show a steady image.

A full description of the system and the source code for the firmware can be found at http://tuxgraphics.org/electronics/201404/large-led-display.shtml.

Our ethernet board is at the heart of this system and sits on the back of this board.

Dimmensions:


Visible digit hight: 1 inch, 2.5cm
Visible digit width: 9/16 inch, 1.4cm
Board: 7.4cm x 13.6cm (2 15/16 inch x 5 11/32 inch)
Depth (with components and ethernet board on the back): 3.5mm (1 6/16 inch)



This 4-digit display kit inclued the actual display segments and driver stages. To use it you do need the ethernet board. The whole system is powered with 5V DC and a appropriate power supply is available seperately. The display consumes about 300mA and the the exact power connsumtion depends on the amount of illuminated display segments. We recommend to use a 5V DC power supply rated for 0.5A (500mA) or more.



Note: you need a 5V DC power supply rated for 0.5A (500mA) or more and the atmega328p based ethernet board.



Just the display kit (you need to use a separate eth-board)

price: 52.30EUR, [convert_currency]


The display kit + ethernet board pre-loaded with software
price: 90.00EUR, [convert_currency]


---

my cart | proceed to checkout