---

AVR microcontroller based ethernet device / web server, SMD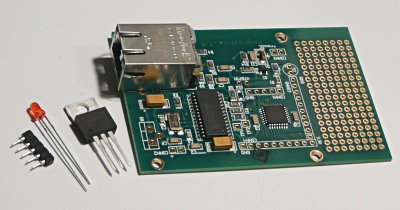 This kit is almost completely assembled except for the voltage regulator, a LED and the socket for programming the microcontroller. This gives you more flexibility when mounting the circuit in a box. The board has an atmega328p microcontroller on the board (almost identical to atmega168/88 but more flash memory and 2Kb RAM).

The Magjack on the board is an AutoMDIX jack.

The board has 16 general purpose ports. 8 of them can optionally be used as analog inputs. There is also one connection for a freely programmable external LED and a connection to drive an external relay. The board has a 18x8 dot-matrix field which can be used add components and customize the board.

This kit includes besides the actual SMD board:
Documentation: circuit diagram and description of the board
1 x 5 pin ISP connector
1 x LED 3mm red
1 x 3.3V linear voltage regulator (check out our switching regulators if you need an extrem low power solution)
It's a complete web server on 5.4 x 8.2 cm (2.16 x 3.22 inch). The dot-matrix can be cut-off the board. The dimensions of the board without the dot-matrix field are 5.4 x 6 cm (2.16 x 2.36 inch)

Examples for different applications of this board can be found at http://tuxgraphics.org/electronics/



Note: you will not need any additional parts to use this board as an ethernet board or web server. You might however want to build some bigger application such as an NTP clock or a thermometer. In that case you need things like displays, relays or sensors. Have a look the add-on parts section for additional boards that can be attached to the ethernet board.




Looking for a system that is ready to use? We can build it for you. more ...


---

my cart | proceed to checkout