---

Embedded client systems, pre-loaded, ready to use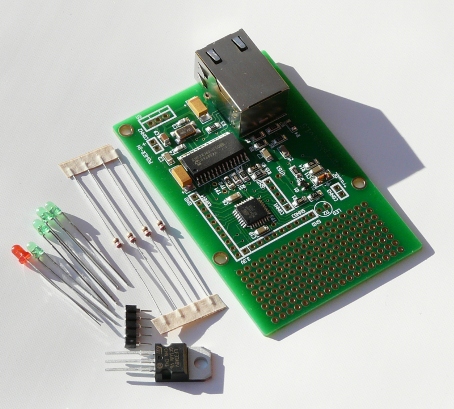 This product offering has been discontinued due to insufficient demand. That is: You can still build this embedded client and run it against your own server (just order an ethernet board and load it yourself with software) but we do no longer provide the "tuxgraphics data services" to store your data.

Embedded client systems are the best solution if you want the measure and monitor over long periods of time. They are really easy to use and give you the maximum freedom to customize the presentation of the data. They can as well send you an email if a configurable alert condition is met.

This kit is almost completely assembled except for the voltage regulator, and a number of LEDs. The board has an atmega328p microcontroller on the board.

By ordering this hardware you get not only a very versatile hardware which is loaded with software and pre-configured but as well access to the tuxgraphics data services. This is an environment where you can manage all your embedded clients. You can create graphs and templates to display the data. You access tuxgraphics data services with your web browser.

Showing the data measured by the embedded client in different ways by using tuxgraphics data services: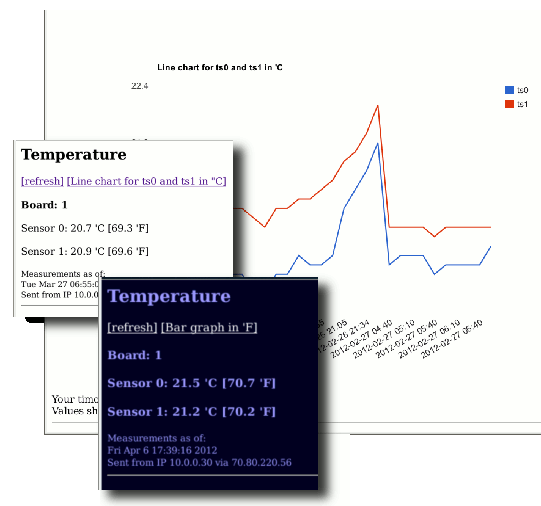 This kit includes besides the actual SMD board:
Documentation: circuit diagram and description of the board
1 x 5 pin ISP connector (not used unless you want to change the software)
1 x LED 3mm red, 4x LED 3mm green, 4x 270 Ohm resistor
1 x 3.3V linear voltage regulator (check out our switching regulators if you need an extreme low power solution)
One account per customer for the tuxgraphics data services. You get the account with the first embedded client board that you order.
Dimensions of the embedded client board: 5.4 x 8.2 cm (2.16 x 3.22 inch).

The use of the 5 LEDs included in this kit is optional. The system will work without those. These LEDs are for diagnostic purposes only.

More information about embedded clients can be found at http://tuxgraphics.org/electronics/201204/embedded-ethernet-client.shtml



Note: dependent on how you want to use this board you might need additional parts such as sensors.

What's the difference between the "embedded client" and the "tiny web servers"?
=> The client is easier to use but can only be used for measurements. You can not use it for control tasks (switch something on/off).





---

my cart | proceed to checkout